Text engraving
Surprise your loved one with a date, quote or other text on your leather bracelet that is important to you. We will engrave the text you want in any language of the world. We will engrave the text for you on both the inside and the outside of the leather bracelet. Up to 60 characters can be engraved on one side of the leather bracelet.
Shop now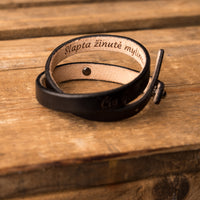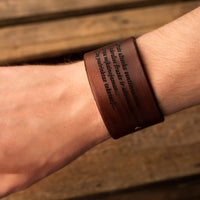 Adjustable size
Want to give away a bracelet but don't know the size of your wrist? With Laeder handmade bracelets, you will avoid this headache. All of our leather bracelets are adjustable, so you can both increase and decrease the bracelet as needed.
Shop now
Best quality
All our accessories are handmade, making each one of them unique. The bracelets and bags are made of the highest quality certified Italian leather and therefore meet the highest quality standards.
Shop now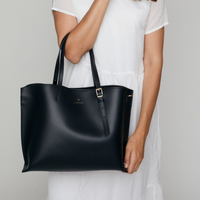 Leather bracelets | For men. For women. For couples.
Handmade leather women's handbags
Testimonials
Nice work, great communication and understanding of the client needs, I really recommend! 😊

Justin
Production time is short, handling time and delivery fast. The quality of the bracelets are excellent!

Giedre
Pleasant communication. Only the best recommendations.

Dalia
Bracelet is beautiful and staff is very helpful with everything. Thank you for your patience and help!

Monique
Thanks for the advice. The gift was very much liked by my husband!

Vaida
I've picked up the parcel. Thank you very much for your work, inquiries, and recommendations. Obvious that you care for your customers and offer good quality products.

Evelina